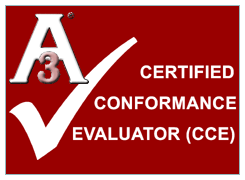 3-A Certified Conformance Evaluator


For a copy of the third party verification (TPV) manual click here.

For a current PDF list of CCE's, click here.

Harold Wainess & Associates are participants in a number of 3-A Sanitary Standards Committees which are responsible for developing hygiene standards for all types of food processing and packaging equipment. Ken Anderson and Dan Erickson are Certified Conformance Evaluators (CCE's) under the new Third Party Verification (TPV) program initiated by 3-A Sanitary Standards, Inc. 3-A Standards are used by regulatory agencies around the world as a basis for determining whether equipment is in compliance with specific construction and design criteria and are also used as a specification when purchasing new equipment.

If you are in need of a TPV audit of your equipment, contact HWA for a quotation.