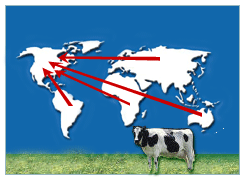 Grade-A Imports


The FDA has established 4 options in which Grade-A dairy products can be imported to the U.S.

1. State Oversight of foreign dairy firm:
A dairy firm outside of the United States could contract with any current NCIMS member's regulatory/rating agency to provide the Grade-A regulatory oversight. This would include the licensing, dairy farm and milk plant inspection and sampling, pasteurization equipment testing, laboratory certification and rating/NCIMS listing certification.

2. Membership in the NCIMS:
The importing country, or a political subdivision thereof, may become a full member of the NCIMS subject to all agreements identified in the Procedures and Memorandum of Understanding with FDA and enjoying all NCIMS privileges. This would require, among other things, that the milk regulatory agency(ies) of the importing countries adopt and enforce rules and regulations which are the same as those required by other members, i.e. states, and abide by all applicable NCIMS regulatory and rating requirements.

3. FDA Equivalency:
FDA can evaluate the importing country's system for regulating the safety of dairy products and compare the outcome of that system with the United States system on the safety of dairy products produced domestically.

4. INTERNATIONAL CERTIFICATION PROGRAM
A forth option is now in place in which foreign dairy processors can export their Grade-A products to the U.S., Harold Wainess & Associates has been selected as a Third Party Certifier and has successfully listed numerous dairy processors in the IMS List. CLICK HERE to view the Foreign Dairy Plant section of the IMS List.

If your company is interested in exporting Grade A dairy products to the U.S., HWA can perform a pre-assessment audit to determine what modifications need to be made to meet the FDA Grade-A Pasteurized Milk Ordinance (PMO) requirements. For a copy of the current edition of the PMO, CLICK HERE.